Metal Braces
The Strong Standard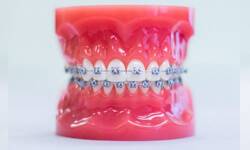 Traditional metal braces are the most common type of braces and are more comfortable, compact, and durable than ever before.
Made of surgical-grade stainless steel right here in Wisconsin (American Orthodontics), they are a tried and true option for transforming your smile. With metal braces, you have the ability to add colored elastics to provide for a more fun and unique treatment experience.
Champagne Braces
Durable and Discreet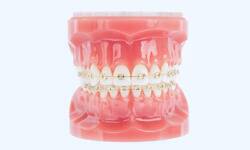 Our popular champagne-colored brackets are as durable as traditional metal brackets and nearly as discreet as ceramic brackets. These beautiful brackets are also made right here in Wisconsin at American Orthodontics!
Their unique color helps them to blend in beautifully with your smile. They also feature a low profile, contoured design to ensure you'll be as comfortable as possible during your treatment.
When matched with the gold wire and clear or gold elastic ties, champagne braces are a great esthetic option for those looking to avoid the look of traditional metal braces.
Ceramic Braces
A Clear Alternative to Metal Braces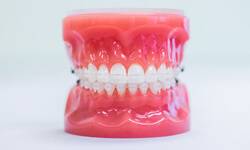 Our clear braces are designed to be less noticeable on your teeth than metal braces. Though not completely invisible, this option blends in the best with your smile, making it our most advanced esthetic braces option.
Ceramic braces are perfect for those seeking a more discreet treatment without the extra hassle of the responsibility of wearing clear aligners. They are made of a nearly invisible and very hard polycrystalline ceramic material. Because of the hardness of the material, we typically do not place these brackets on the lower teeth due to the potential for them to interfere with your bite during treatment.
While ceramic braces blend in with your natural smile when paired with clear elastic ties, you do still have the option to add more brightly colored elastics ties to them for a little added fun!