September 21st, 2021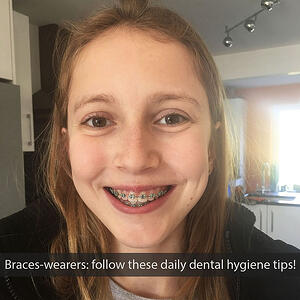 Every orthodontic patient dreams of Braces Off Day, but tooth decay and unsightly stains can make that dream smile harder to achieve if we aren't careful about daily dental hygiene while the braces are on. Here are a few crucial tips to follow to get the best results:
#1: Brush after each meal.
Yes, including lunch. Food particles can remain stuck in the braces for hours after lunch, so bring a toothbrush and toothpaste to work or school. A few interdental brushes for extra security wouldn't hurt either. Just be careful to store the toothbrush somewhere it can dry out between uses because it won't take long for it to develop some funky smells if it stays damp.
#2: Floss daily.
This may be even more important than brushing, whether it involves traditional floss and floss threaders, floss picks, or a water flosser. Trust us, flossing is worth the effort, even if braces can make it a little trickier to do.
#3: Avoid sugary/acidic foods and drinks.
Did you know that every liquid (other than water) contains some sort of sugar or acid that can damage your teeth? Be sure to limit your sugar and acid intake to keep those teeth nice and healthy.
We're looking forward to a great Braces Off Day for you!
Top image by Flickr user Ian Hughes used under Creative Commons Attribution-Sharealike 4.0 license. Image cropped and modified from original.
The content on this blog is not intended to be a substitute for professional medical advice, diagnosis, or treatment. Always seek the advice of qualified health providers with questions you may have regarding medical conditions.