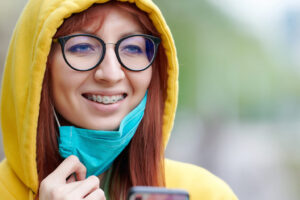 It seems counterintuitive to say that the pandemic has created the perfect opportunity for patients to seek orthodontic treatment, but it's true! If you have always wanted to transform your smile, but were hesitant about actually wearing braces, this really may be the right time for you.
Over the past few months, we have noticed a substantial increase in the number of people – especially adults - starting treatment with our office! When asked what lead them to seek out treatment, the most common response we get is that this is the perfect time for braces, because so much of the transformation will be completed behind a mask.
Having Braces During COVID-19
Here are a few things to ease your mind about starting your smile transformation and visiting our office during this time:
If you considered the esthetics of braces to be a barrier, you can now rest easy knowing that much of your smile transformation can happen behind your mask!
Working from home? This allows you to accomplish much of your treatment and get accustomed to your braces from the comfort of your home!
We have always upheld the highest level of sterilization and disinfection in our office. This past year, we have implemented even more ways of keeping our patients, staff, and doctors safe so that we can continue to create beautiful smiles in a safe and healthy environment.
When the Mask Comes Off…
This year has turned into one of self-improvement for many, both mentally and physically. Why not extend that to your smile, too? Straighter teeth not only make for fabulous, confident smiles, but they are also much healthier, easier to clean, and function properly! If you've been thinking about straightening your smile, simply give our office a call. We would love to meet you to discuss your unique treatment goals.
You could be well on your way to the smile of your dreams when the mask comes off! What are you waiting for?
Top image courtesy of Shutterstock free images.
The content on this blog is not intended to be a substitute for professional medical advice, diagnosis, or treatment. Always seek the advice of qualified health providers with questions you may have regarding medical conditions
Leave a Reply